What is your website and online marketing campaign missing that will save you time and make you more money? Click here to find out
CapeLinks can deliver new customers right to your email inbox and/or via telephone. You won't need to worry about advertising budgets, setting up expensive pay-per-click campaigns, tracking results, or any of the normal hassles involved in finding new customers.

Performance based
CapeLinks Local Leads is a performance based marketing service. Meaning you only pay us for results. We will determine a per lead price that you want to pay for every new customer lead. That is all you will ever pay. No set fees or monthly contracts.
Local Leads for Cape Cod Businesses
These leads will come from customers that have expressed an interest in what you offer and have taken the steps to fill out a web form or call you. CapeLinks does not contact these leads. They are referred directly to you. It is up to you to sell them on your business and close the deal.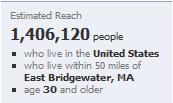 Online marketing is the key to growing your business. Over 80% of consumers start their search for a new product or service on the Internet. Social networking sites like Facebook now have over 400 million members. There are 1.4 million Facebook users age 30 and older in eastern Massachusetts alone!
We can leverage search engine marketing, social networking and our own network of local websites to drive leads to your business. These days, Internet leads are critical to businesses like yours, and we have the knowledge and experience to deliver new customers from these sources directly to you.

Tired of not really knowing how well, or if your advertising is working at all? Not with our system. Everything we do is trackable, and measurable down to the smallest detail. You will know exactly what the ROI is on your lead purchases. We may also be able to provide you with valuable market demographics about your new customers.
Keeping it local
We know how to keep it local. The advertising systems we use have sophisticated geo-targeting tools to make sure leads are coming from the exact areas that you designate. That means you get only customers from the locations you know your best customers come from. You won't get leads from far away places from people that have no chance of ever buying your goods or using your services.

Increasing your footprint
We will market your business aggressively to generate the maximum amount of targeted local leads for you. Depending on your business and target customer demographic, we may purchase paid advertising on websites like Google, Yahoo, Bing and Facebook. There are many different marketing strategies that are available for us to use to drive quality leads and phone calls to your business. Depending on what it is that your business offers, some methods will work better than others. But remember, you don't have to worry about any of this. We will take care of all of it. You just need to respond to the leads, sell your service and close the deals.
No website? No problem.
If you have a website, that's cool, but you don't even need a website. We will take care of everything. All you need is a phone number to start taking leads and getting more business.

We can set up a special toll free phone number for customers to call you. This phone number will track all calls generated by our marketing campaigns and forward them directly and seamlessly to you. Often phone calls will convert into sales more effectively than email based leads. In addition to phone calls, we can also forward email leads that include the customer's phone number via text message directly to your cell phone. So if you're not big on email, you don't even really need to use it.
Get a free no obligation local lead consultation
Contact us today for a free consultation and let's see if we can get a steady stream of new customers for your business.
Home
»
Services
» Local Lead Generation
---