What is your website and online marketing campaign missing that will save you time and make you more money? Click here to find out
Search engine optimization is necessary for your business website to compete in today's online world. Think about it this way. Just outranking your competition by one spot can have a major impact on your bottom line.
How much of a difference can it make?
Here is the relative click volume for the first page of search results from a leaked AOL user data report from 2006. Notice the sharp decline in click share from position #1 to further down the page.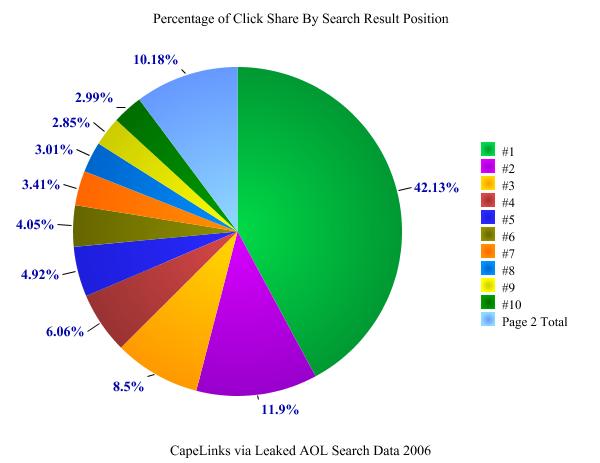 Click Share (first page of results)
42.13%
11.90% (3.5x less)
8.50% (4.9x less)
6.06% (6.9x less)
4.92% (8.5x less)
4.05% (10.4x less)
3.41% (12.3x less)
3.01% (14.0x less)
2.85% (14.8x less)
2.99% (14.1x less)
The entire first page gets 89.82% of the total click share. The whole second page of results shares only 10.18% of the entire pie, so if you are on the second page your slice of that pie is going to be pretty thin.
Though not by much, interestingly position #10 gets a higher click share than position #9. However, I would not recommend trying to drop from position 9 to 10 as a strategy to increase your click share.
Search keywords and phrases
Did you know that the average search query is over 4 words long? and that about 20% of the searches on Google in any given month are unique phrases that have never been searched before? It's enough to make your head spin.
However this does mean that there are many, many more keywords available for you to target. Keyword research can yield missed, overlooked, and future opportunities for you to increase your website's online footprint.
Optimizing existing website content and creating additional content with new keywords and phrases in mind can increase your overall search engine traffic exponentially.
What this means to your business
If your website visitors are converting on a regular basis into sales, leads and phone calls you will see your percentage of leads and sales rise with every step you can gain on the organic or free traffic ladder. If you have a website that is user friendly as well as search engine friendly, your online inquiries, leads and sales should increase in multiples similar to those on the chart above with every step you gain over the competition.
I don't know what a new customer is worth to your business or how many visitors your website gets in a month, but what if you could increase your existing share of the pie by 2, 3, 5, or 10+ times? Would that make a huge difference in your bottom line? You bet it would.
How quick can you see results from SEO?
It's hard to say and really depends on your current situation and how competitive your target keywords and phrases are. In most cases, the results of a well thought out search engine optimization strategy can be seen in a matter of weeks, but may take longer depending on how much competition there is for the top spot and your current online situation.
Some of the things that will determine how quickly you see seo results are:
How old your website is
Keyword matching in the domain name
How many other websites link to yours
Content quality and volume
Maintenance and future strategy
One thing to understand about search engine optimization is that it is never a done deal. It is a job where the strategy is ongoing and needs constant monitoring. As you can see from the chart above, one little slip can have a huge impact on your bottom line. Ongoing seo strategy is a necessity for your business to compete and thrive online.
Remember, when someone moves up the ladder everybody else gets sent down a rung or two. Your competition is always going to be trying to knock you down the ladder.
Conversion optimization
None of this search engine optimization mumbo jumbo means anything unless your are seeing an increase in the amount of leads or sales you are getting from these additional website visitors.
Your website needs to be able to convert a good percentage of these new visitors into leads and sales for it to really impact your bottom line. This is called conversion optimization.
Conversion optimization is turning a bigger percentage of visitors into sales and leads. Much of this depends on your conversion goals or what you want your visitors to do. Like fill out a contact or estimate form, buy something, make a reservation, sign up for a newsletter, etc...
A good search marketing strategy will take conversion optimization and goals into consideration right from the get go. If you are targeting the right visitors, the better the chance you have of these visitors turning into a lead or sale. Proper keyword research and content strategy will increase the conversion rate by targeting keywords that are based on specific user intent and at the right interest level for the goods and services that you offer.
Complete SEO strategy
There is alot more to search engine optimization than meets the eye. I could go on and on about meta tags, title tags, internal link structure, how many backlinks you have, local map listings, online citations, etc... but this isn't a 10 week course on search engine marketing so I'll just include a partial list below.
There are many aspects of search engine optimization that include but are not limited to:
Content creation
Content management
Website structure
Internal linking
Crawlability or search engine spider friendliness
Competitive research
Keyword and phrase targeting
Obtaining links to your website
Local search listings
Citations & reviews from other sources
Conversion optimization
and a whole lot more ...
The key to all of this is increasing your online footprint. The larger your footprint is, the more impact it will have.
Get a free no obligation search engine optimization quote
Contact me for a free analysis of your website and recommendations for a complete search optimization strategy to increase your online business. Call Darren at (508) 364-2005 or fill out the form below.
Home
»
Services
» Search Engine Optimization SEO
---